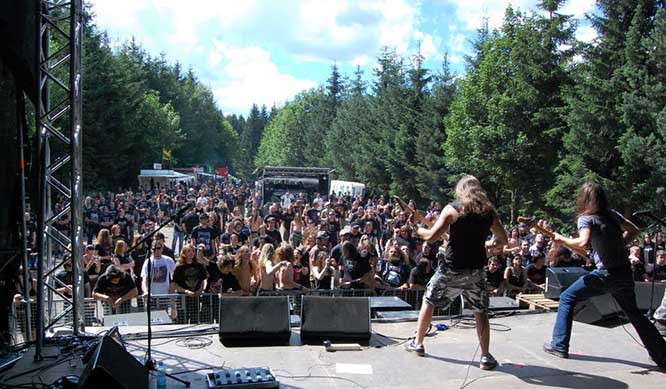 In summer 2022, Kaltenbach Open Air, Austria's most renowned and legendary Extreme Metal Festival, takes place for the 15th time. Following the event's tradition, it once again welcomes its visitors in front of the spectacular backdrop of the Styrian Alps nearby the small village of Spital am Semmering. For three days headbangers from far and wide will set the mood and create a unique atmosphere. Not only has the outstandingly impressive location highlighted this festival, but also an annual star-studded billing. From 18 to 20 August 2022 the ground will be shaken by established heavyweights and ambitious newcomers.
Do not miss this extraordinary event!
Photo: © jackrock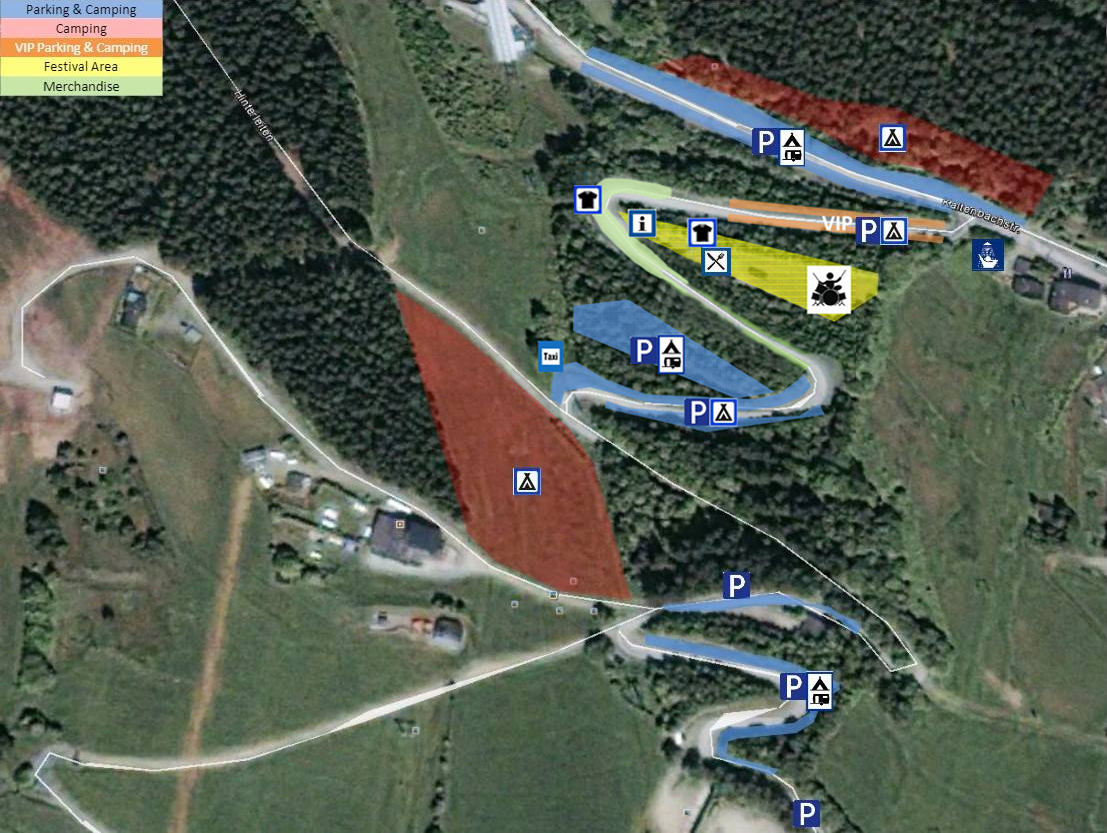 MISCELLANEOUS
36 bands on 3 days on one stage
Doors open respectively at 11:50 am, show starts at 12:20 pm
Information point, located next to the entry, is open from 10:00 am until 10:00 pm
Festival merchandise stall, located next to the entry, is open from 11:50 am until 02:00 pm
Breakfast booth (coffee, cakes & snacks), located next to the entry, opens at 08:30 am
Bar and food stall open at 11:50 am
PARKING AND CAMPING
Parking and camping designated areas only
Separated areas for campers, caravans, etc.
Camping site is open from Wednesday 03:00 pm until Sunday 03:00 pm
Parking and camping at your own risk; the organizer is not legally liable for any loss, injury or damage; parking fee 10 EUR per car
No limits for drinks and food on the camping site
Rubbish deposit is 5 EUR each person; refund of rubbish deposit only with valid voucher and rubbish bag at information point on Sunday from 08:00 am until 03:00 pm, on the days before during the opening hours of the information point
Barbecue with appropriate equipment only; no open fire!
In case of increased risk of forest fires, barbecues are absolutely prohibited. In this case we will publish an announcement on our website a few days before the festival starts
SHUTTLE SERVICE
INFRASTRUCTURE
Catering
Supermarket Nah & Frisch in the town centre of Spital am Semmering
Guest house Hirschenhof in the town centre (special breakfast and menu)
Guest house Pollerus at the exit of Spital am Semmering, in direction Mürzzuschlag
Guest house Tom's Hütte at the exit of Spital am Semmering, in direction Vienna
Guest house Kärntnerhof in Spital am Semmering, close to the camping site
Accommodation
Sanitary facilities
Portable toilets are available for free use on the festival and camping site
A shower container is available on the camping area for a fee of 2 EUR – on Friday and Saturday from 09:00 am until 03:00 pm
Public facilities with shower possibilities (reachable via taxi):
Vivax Mürzzuschlag (swimming pool), distance approx. 7 km
Urani Teichanlage Neuberg (pond), distance approx. 20 km
Food and drinks
Various food and drink stalls on the festival site
Clothing and audio
Various merchandise stalls at our trading area
SECURITY AND FIRST AID
Security and First Aid team present round-the-clock
Visitors have to obey all general security instructions
Absolutely no weapons and pets on the festival and camping area
Prosecution in case of violation against other persons or equipment
In case of violation against these orders the immediate elimination from the festival area without any claim for damages will be conducted by the police
You must not bring your own drinks and audio recording equipment to the festival site
All visitors participate in the festival at their own risk and shall take all reasonable measures to protect themselves and other persons from any risk or damage.
All participants are responsible for their property and the organizer accepts no responsibility for any loss or damage. The organizer is not legally liable for any loss, injury or damage suffered by any participant on the festival area!
---
Running Order-Download
www.kaltenbach-openair.at/downloads/KOA-Running-Order-2022.pdf