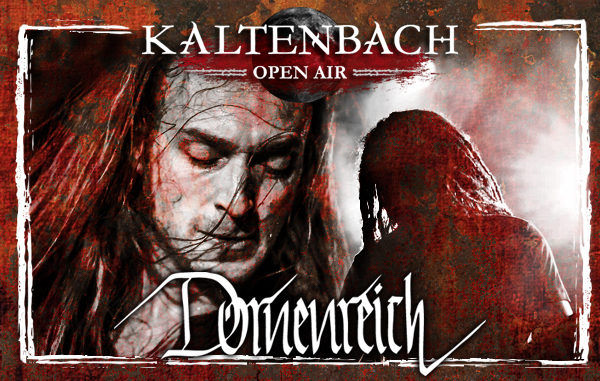 We are pleased to announce the participation of DORNENREICH at KOA 2019, the band will perform an exclusive show in Austria. A statement of the band:
"LEBEN UND LEIDENSCHAFT Tour 2019" (feat. Eklatanz of Heretoir on Bass/Vocals)
In order to honour and to celebrate the release of the Dornenreich Vinyl Compendium – which is going to include all the band's works to date in a lavish box on no less than twelve LPs – the always wayward Dornenreich are going to bring you some highly intense metal gigs in 2019.
Among other things, their set-list for this tour is going to feature tracks from their most influential albums "Hexenwind" and "Her von welken Nächten" which are going to be performed with all clean vocal parts for the first time in more than ten years. In this endeavour, Dornenreich are going to be supported by no less a person than Eklatanz, the mastermind of Heretoir, a long-time friend of the band who will assist them on bass and vocals.
Eviga on the subject of this tour: "After the long, long work on our vinyl box which made me dig deep in our discography and history, I remembered our tour with Heretoir in 2014 when we talked with David/Eklatanz about how well his special voice and his deeply emotional stage performance would blend with the spirit of Dornenreich's older pieces – and thus we set the ball rolling …"
Yet this tour and its moniker – which translates as "Life and Passion" and is also serving as the band's own mantra for years now – has another important layer of meaning for Eviga: "With these concerts, we aim to commemorate and honour my father's contribution to Dornenreich as painter of the band's classic cover-artworks such as 'Bitter ist's, dem Tod zu dienen,' 'Durch den Traum,' or 'Flammentriebe.' After a longer period of private mourning, it is now time to let our audience know that my father passed away in 2017 – before he was able to finish his work for the vinyl box. I know that my father's paintings mean a lot to large parts of our audience – and with his death, an era of the band comes to an end as well. Above all else, this is what we would like to honour and communicate with this tour and with its moniker as the spirit of the tour that connects us all – beyond all earthly borders: LIFE AND PASSION …!"